Ammenities to Feel Good About
Our products are free from: sulfates parabens, phthalates, synthetic fragrances, and gluten. Certified organic and vegan friendly and pride ourselves in using fully biodegradable ingredients. Offer Refillable Bottles to produce less waste and are in line with your Eco-Conscious brand ethics. Our pure and naturally gentle ingredients make our products safe for use on all skin and hair types.
Join the movement, eliminate single use plastic and reduced waste. Guests can use as much or as little product as needed. Our dispensers and bottles can be easily refilled. And our refill containers are completely recyclable.

What washes down the drain is naturally biodegradable. Good for you, your guest and the environment. Our unique blend of plant derived ingredients and mild essential oils are carefully selected to cleanse, effectively and nourish even the most sensitive skin.

Formulated and made on Vancouver Island, with our abundant supply of nourishing plants from our forest and ingredients from our own garden. Everything is sustainably harvested using traditional methods with respect to the natural seasonal cycles.

Our products are revered for their aromatherapy benefits, luxuriously scented with pure botanicals, without being overpowering. The superior quality will exceed your guests expectations and provide them with an exceptional experience using your facilities. 
Dispensers
• Wall mount
• Refillable 570 mL capacity
• Each unit measures 5.1" x 2.2" x 5.3"
• Tamper proof lock
• Made in Canada
• Our wall mount dispensers are exclusively available for four and five star rated properties and select boutique locations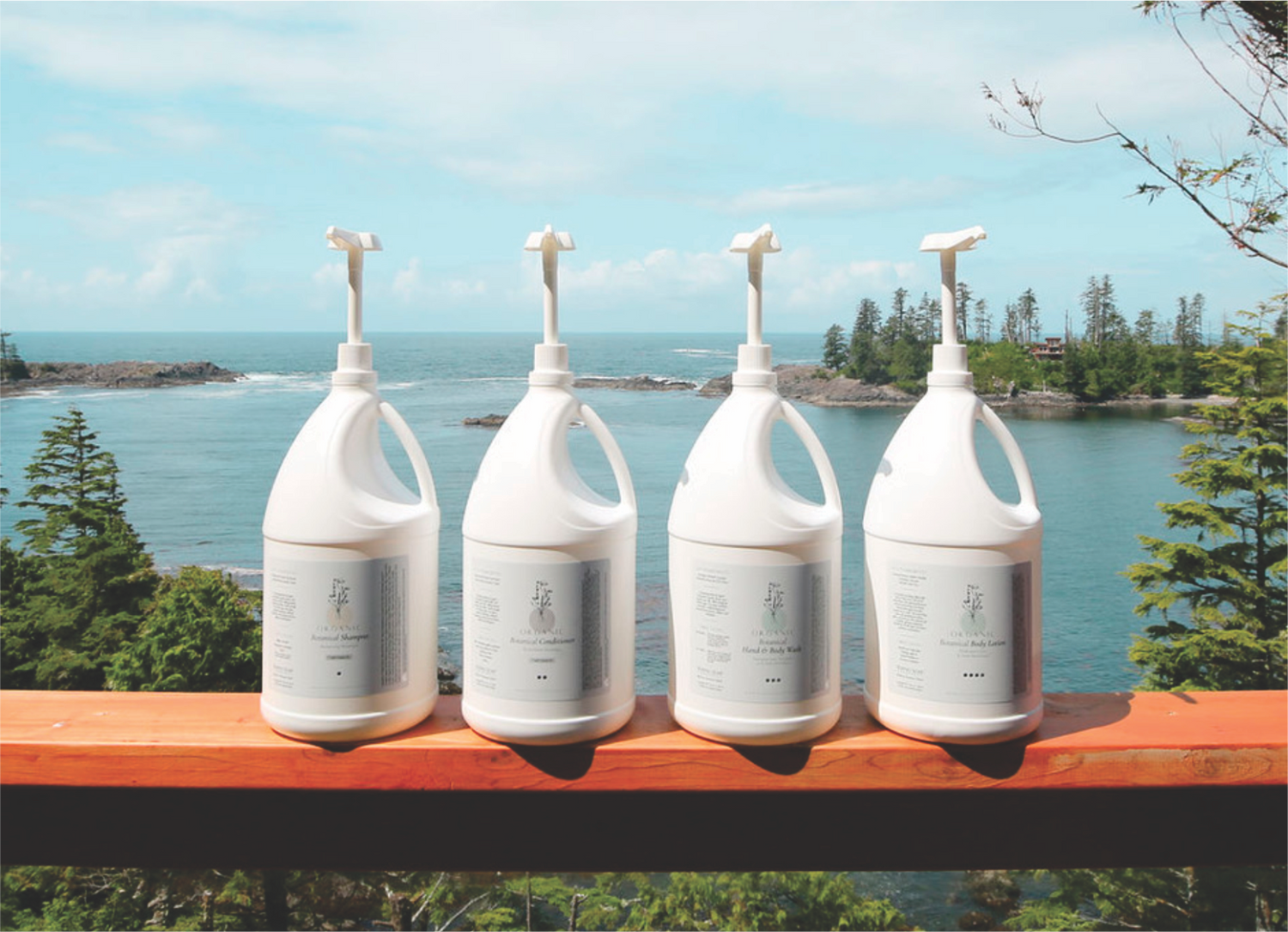 4L Eco Refill Jugs
• Certified organic botanical shampoo
• Certified organic botanical conditioner
• Certified organic botanical hand and body wash
• Certified organic, botanical face and body lotion
• Pumps are available to easily refill smaller units
• One jug can fill a dispenser seven times or a regular size bottle 14 times
Sink Side Bottles
• Eco-friendly bottles
• A convenient portable option for our hand and body lotion
• A perfect sink side option for our hand and body wash great for high traffic, restrooms and boutiques and restaurants
• Quick to refill
Contact us to learn more
tofinosoapco@gmail.com
(250) 266-2571