Last year, we published a post featuring some of our favourite local spots for food and drink in Ucluelet and Tofino. This time around, we thought we'd highlight beloved places throughout Vancouver Island. Whether you're a Vancouver Island local looking for a new go-to spot, or a tourist who wants to experience authentic West Coast cuisine, we've gathered treasured restaurants, cafes, farmers' markets, and other specialties unique to the Island.
Vancouver Island Fare
Not only is Vancouver Island known for its incredible seafood, it has become a hub for impressive international cuisine from around the world. 
1. Pluvio, Ucluelet
If you're looking for an authentic Vancouver Island dining experience with a focus on local ingredients, Pluvio is perfect for you! This award-winning restaurant is known for its unique food and creative cocktails. It will certainly be an experience to remember!
Check out Pluvio:
2. Shore Restaurant, Qualicum Beach
Perhaps you're leaning more towards a relaxed, home-style fish dinner. Shore Restaurant in Qualicum Beach will hit the spot. Specializing in crispy fish and chips and flavourful fish tacos, Shore will satisfy all your West Coast cravings.
Check out Shore Restaurant:
3. Shirley Delicious, Shirley
If you've visited Vancouver Island before, chances are you've heard of the famous Shirley Delicious restaurant. Nestled in the woods on the West Coast of the island, Shirley Delicious is known for its excellent brunch, lunch, and baked goods. They have great vegetarian options, too!
Check out Shirley Delicious:
4. Il Terrazzo, Victoria
It would be wrong of us not to mention the delicious Il Terrazzo restaurant. If you're in Victoria for a night, make a reservation at this beloved restaurant and enjoy the experience. Described as a Northern Italian restaurant with a West Coast flare, you won't be disappointed here.
Check out Il Terrazzo:
Cozy West Coast Cafes
1. Big Wave Cafe, Ucluelet
Although this cafe is technically a food truck, it's worth the visit. Their surf-themed espresso bar and fan-favourite bagels and breakfast sandwiches will fuel you up for a day on the beach. No frills – just good coffee!
Check out Big Wave Cafe:
2 . Coyote's Coffee Roastery, Parksville
Past Nanaimo on the East Coast of Vancouver Island is where you'll find Coyote's Coffee Roastery. Boasting organic and fair trade coffee, their beans are roasted on-site in small batches to preserve their unique flavour. 
Check out Coyote's Coffee Roastery:
3. Hide + Seek Coffee, Victoria
Featuring a warm, welcoming staff and a rotating menu of single-origin coffee beans, Hide + Seek has quickly become a Victoria institution. You'll find vintage records on repeat and an array of delicious baked goods. 
Check out Hide + Seek Coffee:
Ultimate Farmers & Goods Markets
1. Old Country Market, Coombs 
We would be remiss not to mention the famous Goats On The Roof Farmer's Market in Coombs. People come from all over the world to see the grazing goats on the roof. This market is known for its grocery selection, home goods, and fresh baked goods. Don't miss it if you're on the West Coast!
Check out Old Country Market:
2. Tofino Public Market, Tofino
Every Saturday morning from the end of May until the beginning of October, local Tofino vendors gather to offer unique West Coast-inspired goods. From ceramics to jewelry and art, you'll find some of Tofino's most beautiful hand-crafted treasures here.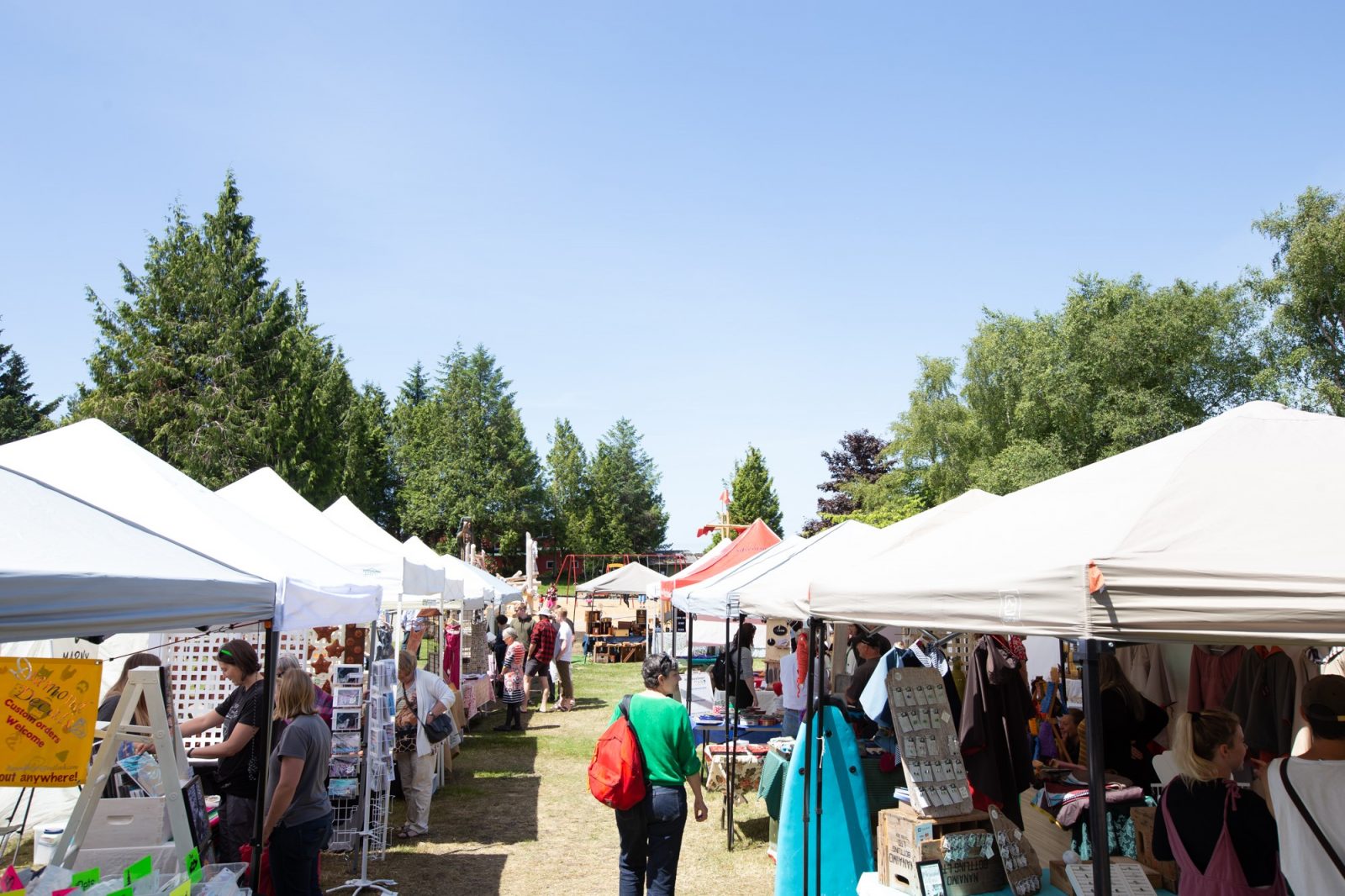 Check out Tofino Public Market:
3. Duncan Farmer's Market, Duncan
If you're looking for a vast market with lots of options, you've come to the right place. Duncan Farmer's Market features over 100 vendors selling everything from in-season fruit, honey, eggs, cheese, wine, plants, flowers, and much more. On top of that, this farmer's market offers a handful of must-try food trucks!
Check out Duncan Farmer's Market:
Bonus: Vancouver Island Wine
1. 40 Knots Winery, Comox
If a walk through a vineyard and a delicious wine tasting sounds like a perfect afternoon to you, we suggest you make the drive to Comox and visit 40 Knots Winery. One of the largest wineries on the Island, 40 Knots also offers picnic selections like cheese, crackers, and chutneys that you can enjoy on their terrace with a glass of wine.
Check out 40 Knots Winery:
Where will you be visiting on your trip to Vancouver Island? Let us know in the comments below and stay in touch with us on Instagram @tofinosoapcompany for more West Coast lifestyle inspiration.