Walking along a sandy beach is a beautiful way to connect with nature. The fresh sea breeze and sounds of the ocean are only a couple of reasons why we love to call Vancouver Island home. With lush rainforests, abundant wildlife, and sprawling beaches, the areas within and around Tofino and Ucluelet are some of the most naturally beautiful places in the world. The products we make at Tofino Soap Company, and the work we do, is continually inspired by the stunning natural landscapes in this area we call home. 
Whether you're planning a visit to the island or just want to explore new places in Tofino and Ucluelet, we've rounded up some of our favourite beaches that you'll want to discover. Not sure what to pack in your beach bag? See our easy guide here.
With the area being blessed with wildlife, it begs you to be responsible with your conduct. Please be respectful of our feathered friends by giving them a wide berth (especially with a leashed dog), and bring bear spray for any trails or out-of-town adventures.
With any trips to the exposed coastline, look for swell and tide forecasts prior to heading out to make any activity safe and enjoyable!
Cox Bay Beach
This surfer's paradise supplies waves almost year-round. One of the more popular beaches in the area, Cox Bay is a ten-minute drive from Tofino. Surf rentals are available nearby if you want to attempt the ancient Hawaiian pastime, or you can just watch and admire the landscape. Sunset point is named appropriately ;) 
How to get there: Cox Bay Beach
Chesterman Beach
A Tofino favourite, Chesterman Beach is the perfect place to set up and watch local surfers, especially in the winter, when large waves are ridden only meters from the shoreline.
Considered pet friendly, many people in the area bring their dogs to walk and swim. Feel free to bring your furry best friend with you! If you feel like exploring this beach in the evening, you're welcome to sit around a beach fire with friends. Please note only portable fires are permitted. See District of Tofino guidelines.
How to get there: Chesterman Beach
Image via gotofino.com
Tonquin Beach
After a hike in the beautiful Tonquin Park, enjoy a stroll on one of the most tranquil beaches in the Tofino area. Take the short walk down the boardwalk and be rewarded with a beautiful, sandy beach surrounded by lush forests. 
While we don't like to play favourites, the sunset at Tonquin Beach is one of the most breathtaking on the island. Set some time aside to soak in the magnificent landscape and marvel at the natural beauty around you.
How to get there: Tonquin Beach
Image by JEREMY KORESKI via tourismtofino.com
Big Beach
This location is about a ten-minute walk from downtown Ucluelet, making it easily accessible without a vehicle. Potentially witness huge waves breaking on outer reefs. Green meadows, towering Sitka Spruces, and stunning views surround this charming beach. This is also connected to Ucluelet's world-famous Wild Pacific Trail!
During low tide, keep an eye out on the shore to spot various wildlife like hermit crabs, sea anemones, and sea urchins. On a warm day, gather some friends for a seaside picnic and take advantage of the sheltered picnic area. 
How to get there: Big Beach Ucluelet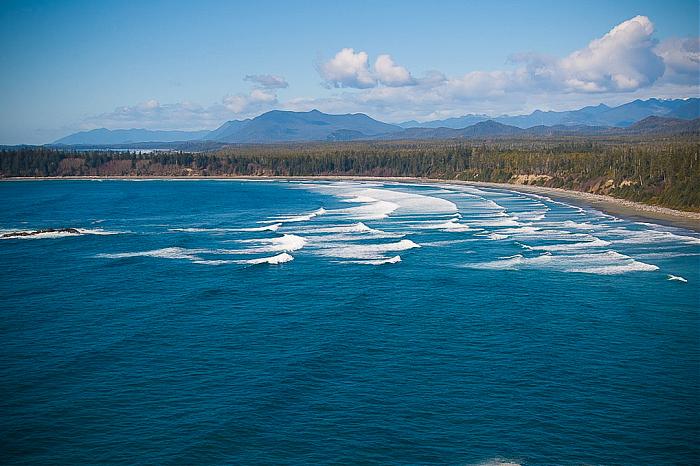 Florencia Bay (aka Flo)
Florencia Bay is located between Tofino and Ucluelet, within Pacific Rim National Park Reserve, off of the Pacific Rim Highway. There is a windy wooden staircase down to the beach. This long, sandy beach boasts lots of sunny southern exposure and protection from the dominant westerly wind in the summer. Find a spot in the logs and drift away to the sounds of the surf.
Our personal tip: bring a blanket and stay for sunset. Once it begins to get dark, discover the array of stars in the sky. Since there isn't much light pollution, the constellations are incredible.
How to get there: Florencia Bay
Long Beach
Nestled away behind the Tofino airport, also within Pacific Rim National Park Reserve, Long Beach stretches for 16 kilometers. It lives up to its name by being the longest beach on Vancouver Island. Again, lots of sunny southern exposure here, but with easier accessibility than Florencia Bay. It's an iconic summer surf spot with occasional waves coming all the way from New Zealand!
How to get there: Long Beach
Once you've gotten your fill of the beach, feel free to explore one of our go-to restaurants and coffee shops in the area. Tofino and Ucluelet are full of unique, curated dining experiences from people who have moved here from all over the world.
What are some of your favourite beaches and nature spots in the Tofino and Ucluelet area? Leave them in the comments below and connect with us on Instagram @tofinosoapco for more west coast inspiration.